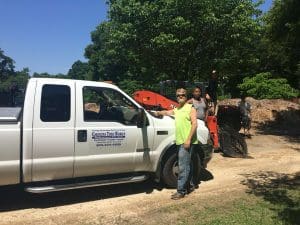 It takes more than tools to cut down a tree. It also takes knowledge, experience, and a concern for the property you're working on. That's why you should always trust a competent, reliable tree company to handle any tree removal at your home or business. At Carolina Tree Work's, we offer complete tree services to customers in Rock Hill, SC and the surrounding area.
"Covering the Carolinas one tree at a time" is our company motto. We provide all types of professional tree care while giving you and your trees the individual attention they deserve. Our tree services include everything you need done to the trees in your yard, from cutting trees down to seasonal pruning.
Tree removal: Take down dead or dying trees to protect your home and other trees in your yard.
Pruning: Keep trees healthy through pruning. We know exactly when you prune your trees and how much to cut them back.
Stump removal: Our stump grinding and removal service gets rid of unsightly stumps in your yard.
Tree topping: Keep trees away from your home, power lines, and other unwanted places.
Shrub care: We prune shrubs and make sure they're as healthy as possible.
Fertilizing: Unsure of when to fertilize your trees or what kind of fertilizer to use? Leave it to us! We'll determine exactly what is needed to keep your trees growing and/or blooming.
Firewood: We can turn your trees into usable firewood.
We have years of experience in the tree care industry. You'll always be able to trust that we're giving you the best information on how to keep your trees healthy and looking beautiful. We're fully licensed and insured for your protection. Free estimates are available on all jobs.